Summer Coffee Recipe! Flash-Chilled Pour Over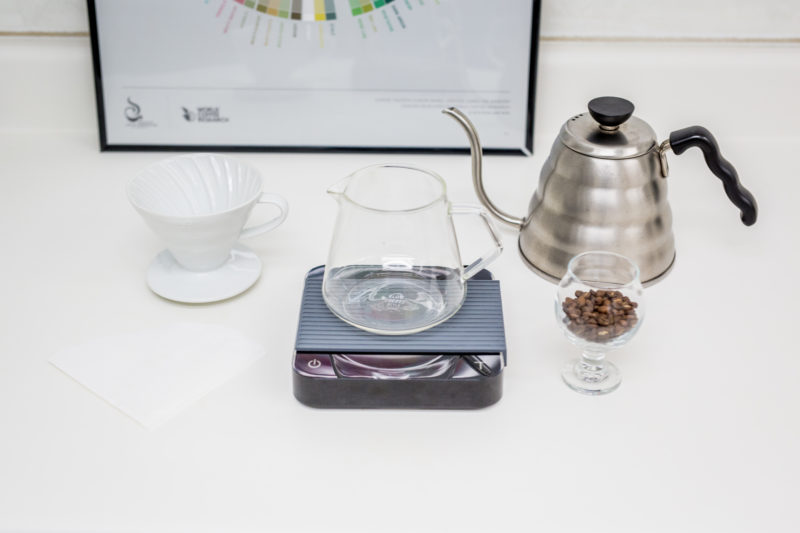 Best cold brew recipe for the summer! Try this flash chilled pour over recipe for a different take on the traditional cold brew process.
What you will need:
23 Grams of Coffee
Scale & Timer
Grinder
Cup or Serving Vessel to Brew Into
Brewing Device (such as a Hario V60 or Kalita Wave)
Filter
Kettle (with a slow pouring spout) & 208 Degree Water
Ice
Preparation:
Position your cup/serving vessel and brew device on your scale. Position your filter in the brew device (pro tip: fold the seam of your filter to create a better fit). Wet the filter using the hot water from your kettle (See Step 2 of our V60/Kalita Wave Recipe). Dump the hot water after filter is rinsed.
Ready your timer, make sure your water is heated to 208 degrees, and add 120 grams of ice to your cup/serving vessel.
Grind 23 grams of coffee to medium (#10 Mahlkonig Guatemala grinder) & dose the ground coffee into your brewer. Level the grounds with a gentle tap. Zero your scale with the cup/serving vessel, brewing device, and coffee positioned on top of the scale.
Start your timer and begin your pre-infusion. Slowly add 50 grams of water into the center of the brew bed moving outward in a spiral. The goal is to evenly saturate all of the coffee while avoiding touching the sides of the filter with the water. Swirl the brewing device 3-4 times.
At 45 seconds, using the same spiral pattern moving outward, slowly saturate the coffee with 60 grams of water. At 1:30, begin your next pour with another 60 grams of water. And again at 2:30, begin your final pour of 60 grams of water.
End weight should be 230 grams (this is important to your end cup.) At 3:30-4:00 minutes be sure to remove the brewing device so no more coffee drips into the final cup. Add a couple more ice cubes to your beverage. Discard filter with spent grounds and rinse your brewing device and kettle. Serve & enjoy!
Learn more about JBC, five time Good Food Award winners and named one of the best coffee roasters in the nation by Forbes and Gear Patrol with over 340 90 plus rated coffees at the Coffee Review. The Chicago Tribune called JBC one of Wisconsin's standout roasters and the Daily Meal said our espresso will elevate your mornings. We are focused on quality-driven, sustainable coffees.